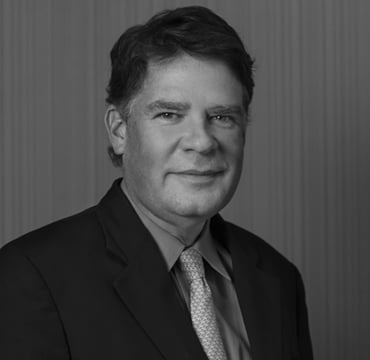 Ethan J. Brown
Managing Partner
p (310) 593-9898
Mr. Brown's practice focuses on complex business litigation. As a former litigation partner at Latham & Watkins LLP, Mr. Brown has been involved in some of the country's most high profile business litigation matters. After fifteen years of big firm practice, Mr. Brown opted to start his own firm with the goal of bringing together the sophistication, exemplary client service and ability to handle the most complex matters of the largest law firms with the personal touch, nimbleness, and efficiency of smaller law firms.
Mr. Brown is experienced in handling matters in federal and state courts around the country and in the local courts of California as well as in private arbitration and mediation. Mr. Brown has handled all varieties of complex business litigation with a particular focus on complex insurance coverage litigation, fiduciary duty litigation, accountants' liability, merger and acquisition litigation, internal investigations, SEC investigations and enforcement actions, and class action defense.  Clients include publicly and privately held corporations, individual directors and officers, investment banks, private equity firms, and accounting firms and their partners and employees.
Prior to joining Latham & Watkins in 2001, Mr. Brown clerked at the Supreme Judicial Court of Massachusetts for Associate Justice Charles Fried, former Solicitor General of the United States and Harvard Law professor.  Mr. Brown practiced in Boston at Hale and Dorr LLP, now Wilmer Hale LLP, in the securities litigation practice group.  He was also a Special Assistant District Attorney in Middlesex County, Massachusetts where he prosecuted numerous jury and bench criminal trials.
Mr. Brown is also active in pro bono. In 2009, Mr. Brown obtained a unanimous verdict for a pro bono client after a four-day jury trial in Los Angeles Superior Court, which resulted in an award of property valued at more than $600,000 for an indigent client. Mr. Brown is also a member of the board of directors of the Legal Aid Foundation of Los Angeles.
Mr. Brown is very active in the community. Mr. Brown is a FINRA qualified arbitrator for disputes in the securities industry. Mr. Brown is the former president of the Harvard Law School Association of Los Angeles and a former member of The Board of Directors of the Harvard Club of Southern California. Ethan was elected in 2016 to the Executive Committee of the governing international body of the Harvard Law School Association. Mr. Brown was appointed for a three year term ending in 2016 by the State Bar of California to its Standing Committee on Federal Courts. The Committee proposes and analyzes rule changes to allow the federal courts in California to operate more efficiently and facilitates relations between the Bar and the federal courts.  Mr. Brown is also a member of the Section of Litigation of the ABA and an editor for the Class Actions and Derivative Suits Subcommittee which publishes information about new developments in class action and derivative suit litigation. Mr. Brown participates in the Federal Bar Association.  He is admitted to the state bars of California and Massachusetts, and numerous United States Courts of Appeal and United States District Courts.
Selected to Super Lawyers 2019-2024.
Education
Harvard Law School
J.D., cum laude
1996
University of Michigan
B.A., Economics and History, with high honors
1992
California State University, Northridge
MBA, Accounting, with honors
2014
BAR ADMISSIONS
California
Massachusetts
U.S. Court of Appeals for the First, Fifth and Ninth Circuits
U.S. District Courts for the Central, Eastern, Northern and Southern Districts of California
Districts of Massachusetts and Minnesota
CLERKSHIP
Honorable Charles Fried
Associate Justice, Supreme Judicial Court of Massachusetts
Harvard Law professor
Former Solicitor General of the United States
NOTABLE MATTERS
Obtained a $6.2 million jury verdict as lead counsel after a twelve-day trial in LA Superior Court on behalf of a remediation services contractor. After 2.5 hours of deliberation, a unanimous jury awarded the client 100% of the damages sought. The court later awarded 18% contractual interest for another $4 million. After settling with the Defendant, took over representation of Defendant to obtain confidential settlement with two insurance carriers and a contractor. 
Obtained a $7.7 million arbitration award as lead counsel after a six-day hearing on behalf of a private equity client for breaches of a merger agreement and reps and warranties by the selling shareholders.
Obtained summary judgment and an award of attorney's fees in an action seeking corporate officer expense indemnification. 
Obtained dismissal through demurrer and summary judgment of breach of fiduciary duty claims by a disgruntled former corporate officer, leading to settlement of one remaining claim for a buyout. 
Won two appeals relating to motions to disqualify a law firm.
Obtained as lead counsel a unanimous jury verdict in LA Superior Court with respect to the ownership of commercial property. 
Obtained more than $1 million settlement against broker who sold fraudulent health insurance. 
Won summary judgement defeating all claims brought by the United States Securities & Exchange Commission in an enforcement action. 
Represented family of young man who committed suicide after allegedly receiving misleading information from investment app which received national media attention and resulted in confidential settlement. 
Obtained a total settlement of approximately $5.3M in insurance coverage and bad faith action. 
Obtained a unanimous published opinion from the California Court of Appeal reversing a decision of the trial court with respect to Financial Elder Abuse Claims. 
Brokered a confidential settlement between and investment and its client and a second investment bank arising from an IPO. 
Obtained two dismissals and summary judgment as lead counsel on behalf of the former President and COO of CSK Auto in securities and derivative litigation. 
Obtained dismissal of Section 14(a) proxy claims, breach of fiduciary duty and aiding and abetting breach of fiduciary duty claims in class action lawsuits in the Southern District of New York on behalf of Gerova Financial Group, Ltd. and its former CEO. 
Obtained summary judgment on key defenses leading to settlement of a dispute over director and officer insurance coverage between directors and insurer after company entered bankruptcy.
Obtained summary judgment on key defenses in insurance coverage litigation relating to independent film finance, leading to confidential settlements. 
Obtained dismissal on behalf of Ernst & Young LLP in a securities fraud action arising from its audit of Stockwalk, Inc. which was affirmed by the Eighth Circuit. 
Handled internal investigations for audit committees of public companies related to alleged accounting issues including revenue recognition and alleged tipping of insider information. 
Obtained dismissal of breach of fiduciary duty and fraud claims against the officers and directors of a privately held company as lead counsel in Los Angeles Superior Court. 
Handled litigation and arbitrations for privately held companies relating to post-closing adjustments and representation and warranty claims related to acquisitions.
REPRESENTATION
Represented companies and/or their officers and directors in securities class actions, including those involving New Century, Janus, International Rectifier, Quest, The9, MRV Communications and others.
Represented Arthur Andersen LLP and various partners and employees in securities class action litigation and government investigations relating to Enron Corporation.
Represented Ernst & Young LLP in securities class actions relating to its audits of The Williams Companies.
Represented the officers and directors of a Nevada corporation as lead counsel in a shareholder derivative lawsuit in state court in Las Vegas in which summary judgment was granted on behalf of the officers and directors on all claims asserted against them.
Represented auditors from the Big Four and regional accounting firms in SEC investigations, PCAOB, and State Board of Accountancy matters.
Represented individual officers and directors of public companies in SEC and other governmental investigations.
Represented Arthur Andersen LLP and three individuals as lead counsel in investment advisory lawsuit that favorably settled after all individuals were dismissed.