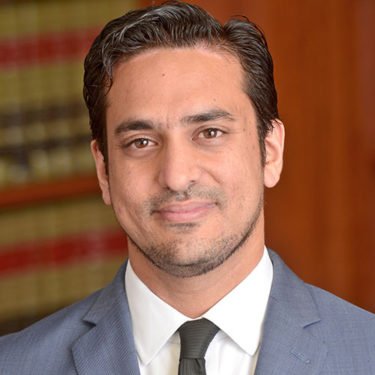 For nearly two decades, Amjad has handled some of the most complex and high stakes litigation cases in the country, including disputes related to commercial contracts, corporate control, civil fraud, business torts, intellectual property, energy, insurance, unfair competition and the False Claims Act. Amjad's diverse clients include Fortune 500 companies, A-List artists in music and motion pictures, fashion retailers, mortgage lenders, energy companies, technology firms, major airlines, municipalities and religious institutions. Amjad has extensive stand-up trial experience, having won multiple significant jury verdicts, including a $12.5 million award. Amjad has also briefed and argued numerous appeals in state and federal courts.
For eight consecutive years (2012-2019), Amjad was named a "Rising Star" by Super Lawyers magazine. In 2023, Amjad was named to the Los Angeles Business Journal's list of "Leaders of Influence: Litigators & Trial Attorneys" as one of "the very best litigators and trial attorneys in the region," noting that Amjad "is frequently called on to take on difficult litigation cases of prominence because of his relentless advocacy, creative decision-making and cool demeanor under pressure."
Prior to joining Brown, Neri, Smith & Khan LLP, Amjad was litigation counsel at Akin Gump Strauss Hauer & Feld LLP, associate at Latham & Watkins LLP and judicial clerk to the Honorable Warren J. Ferguson at the Ninth Circuit U.S. Court of Appeals.
Amjad received his J.D. in 2004 from Harvard Law School. While in law school, Amjad served as editor-in-chief of the Harvard Human Rights Law Journal and as a teaching assistant to Professor Scott Brewer (Contracts, Jurisprudence). Amjad graduated summa cum laude from Claremont McKenna College in 2001, with a B.A. in Government and English (Literature).
In addition to his litigation practice, Amjad devotes a considerable portion of his time to pro bono matters. Amjad has special expertise in asylum and refugee law, deportation defense and providing legal aid to disaster victims. Amjad was co-chair of Latham & Watkins' global human rights and refugee practice group. Amjad has first chaired over two dozen successful immigration and asylum matters. Amjad has received numerous awards and accolades for his pro bono work, which includes sharing the 2012 Muslim Advocates Thurgood Marshall Award. Amjad has also served as an expert witness in asylum cases and has testified six times before the U.S. House of Representatives on the human rights abuses of religious minorities in the Near East and South Asia. Amjad also served as a member of the Council on Foreign Relations and Pacific Council on International Policy.
Since 2014, Amjad also serves as an Adjunct Professor at UCLA Law School, where he teaches "Fundamentals of U.S. Contract Law." From 2017-2019, Amjad served as a lawyer on the California State Board of Pharmacy (appointed by the California Speaker of the Assembly). Amjad has published articles on qui tam and derivative suit litigation, among other subjects. Amjad has also served on the Access to Justice Committee of the Los Angeles County Bar Association. Amjad is admitted to practice in all California courts, the United States Courts of Appeal for the Ninth Circuit and Federal Circuit, and the United States District Courts for the Central District of California, Northern District of California and Southern District of California.
Education
Harvard Law School
J.D., 2004
Claremont McKenna College
B.A., Government & English (Literature), 2001
summa cum laude
BAR ADMISSIONS
U.S.C.A., 9th Circuit
U.S.C.A., Federal Circuit
U.S.D.C., Central District of California
All California Courts
California Supreme Court
California Court of Appeals
CLERKSHIP
Judge Warren J. Ferguson
U.S. Court of Appeals for the Ninth Circuit
2004-2005
TRIAL EXPERIENCE
Co-chair in a 6-week jury trial on behalf of a low voltage contractor plaintiff against a prominent manufacturer of a school intercom product. The case ended with a complete plaintiff's verdict on all claims and an award of $12.5 million in compensatory and punitive damages.
Member of the trial team in a four-week jury trial in the defense of trustees of a half billion dollar trust. The case focused on whether the trust had breached its promissory note and security agreement with plaintiff (a private third-party company) and ended with a complete defense verdict. Plaintiff had sought $400 million in damages.
Member of the trial team in a multi-week jury trial on behalf of a real estate developer in the defense of a multimillion-dollar action filed by the owner of a major sports team. The case ended in a complete defense verdict.
MORE LITIGATION EXPERIENCE
Represented a Fortune 500 company in a novel, years-long trade secrets case in federal court in Los Angeles.  Case ended in a permanent injunction for our client, $66,091.25 in compensatory damages, and an award of $578,512.00 in attorneys' fees.
Counsel to the estate and widow of a deceased business owner in a $300 million False Claims Act case brought by the U.S. government involving the largest beef recall in U.S. history in which summary judgment was entered against the U.S. government.  The case was profiled (and Amjad was quoted) in Law 360.
Counsel to a plaintiff airline in an antitrust action involving predatory pricing allegations in which a favorable settlement was obtained for the client after defeating a motion to dismiss
Counsel to a professional sports league in a federal antitrust and RICO suit filed by a former promoter in which a dismissal was granted
Counsel to a church and church entities in a multimillion-dollar sexual abuse action in which summary judgment was entered
Counsel to officers and directors of a privately held company in a shareholder derivative suit in which summary judgment was entered.
PRO BONO EXPERIENCE
Counsel in an asylum representation for an activist/journalist from Columbia; asylum was granted at the trial level
Counsel in an appellate asylum representation for an Egyptian Coptic Christian; petition for review was granted by the 9th Circuit
Counsel in an affirmative asylum representation for an Ahmadiyya Muslim from Indonesia in a case of first impression for the persecuted group; asylum was granted at the interview stage
Counsel in an affirmative asylum representation for the daughter of an Ethiopian actor and playwright; asylum was granted at the interview stage
Counsel in an affirmative asylum representation for a juvenile immigrant from Honduras; asylum was granted at the interview stage
Counsel for Humanity First, USA to manage a grant connected to the Qatar Katrina Fund; legal work led to the rebuilding of six mosques and schools in the Greater New Orleans
Counsel for Humanity First, USA to manage a cross-border water filtration purchase agreement; legal work created access to clean and sanitary water for 1.26 million people in the earthquake-affected regions of Pakistan.